This page has existed in one form or another since 1996. First on the Hendrix College web server, then at OURnet. A previous version of this page got me some attention a few years ago at the Arkansas Times.
Be sure to visit me at my slightly more active web presence on YouTube.
Anyway, back in 1996 I think I had four guitars. Today I have a dozen or so. Most of them bargains, too. Many of them are signature models. I never set out to be a signature model collector, I just have a thing for guitars that are a little out of the ordinary. And given the vast quantities of ordinary guitars sold out there, the peculiar ones are usually cheaper.
Fender Japan Richie Kotzen Telecaster TLR 135RK I traded my blue Kotzen strat for this green Kotzen tele. This may have been a mistake, as I learned after the fact that only two blue Kotzen strats exist. Oh well. This has become my main guitar over the years, which is surprising since I own so many thin-necked Ibanezes.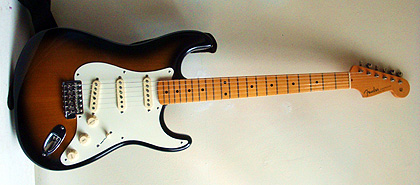 Fender Eric Johnson Model OK this one was less of a bargain, but I did get it for around cost because a local music store was going out of business. Ordinarily I don't like to pay more than $1K for a guitar, but this was as good a deal as it gets for this guitar.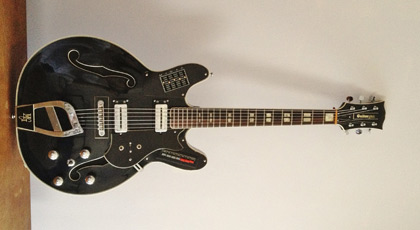 MCI Guitorgan A guitar with an organ toneboard inside it. Here's a demo video I made.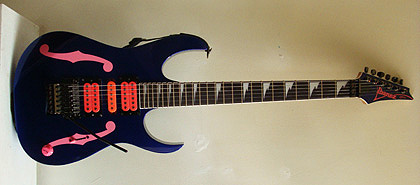 Ibanez PGM100RE Another case of Ibanez reissuing a guitar where it seemed like they were doing it just for me, so it's almost like I had to buy it. Years ago I had an original PGM100 but traded it for the PGM300 below plus a PGM30. Glad to have one again. There's just something excessively rad about pink F-holes on dark blue with pointy inlay.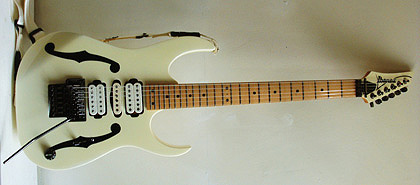 Ibanez PGM300 This is a Paul Gilbert model that was available only in limited release in the States. She's got a great sound and is surprisingly versatile for an Ibanez shred machine. Tone Zone/JEM single coil/PAF Pro configuration.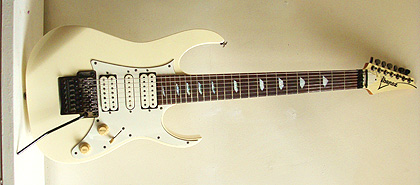 Ibanez Universe 7P 7-string I've had this guitar the longest. Purchased in 1995 while they were out of production, just before Korn came along and suddenly every company was making 7-strings.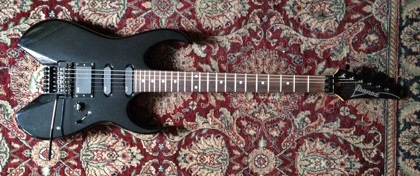 Ibanez Voyager Officially the pointiest guitar I own, another Craigslist bargain. I installed EMGs to get the real Reb Beach tone.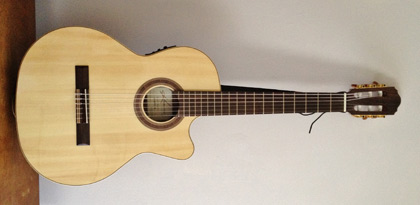 Kremona Rondo I picked this up at East Village Music. Kremona is a Bulgarian company that makes high quality instruments that are cheap in the US due to the advantageous exchange rate.
Eko Beatle bass Not technically mine – but I've been babysitting this bass for my friend John since he moved to England many, many years ago. I doubt he'll ever take it back. And if he asks for it, I'll ask him how much he wants for it.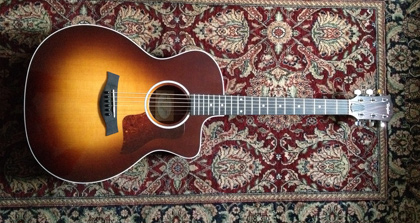 Taylor 214ce-SB What can I say but that I love this thing? Big sound, classic look.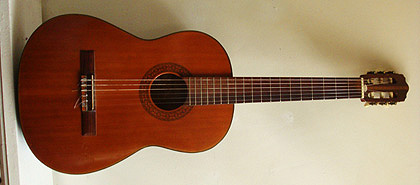 Ensenada Classical I got this guitar absolutely free from my mom's ex-boyfriend. It's actually a pretty nice guitar despite the mile-high action.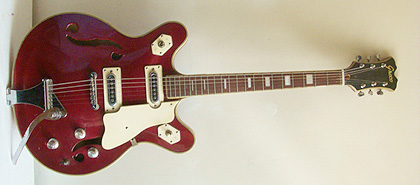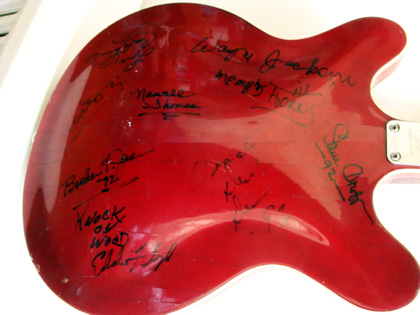 Greco Something or Other I don't know anything about the model, but it appears to be Gretsch-esque in its influence. I bought it for $150 on ebay. What's more important is that on the back it's autographed by Steve Cropper, Duck Dunn, Booker T. Jones, Wayne Jackson, Andrew Love, Eddie Floyd, Carla Thomas, and Marvell Thomas. And if you don't know who those people are, then you best go find out.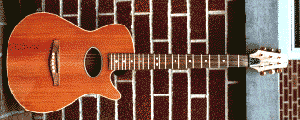 Peavey Ecoustic This was purchased at Ashley Music in Harrison, where I learned to play guitar. She's not very loud acoustically, and the body is so light that the headstock tends to fall forward if you take your hands off. Currently my niece says it's at my dad's but I've looked all over the place and no sign of it.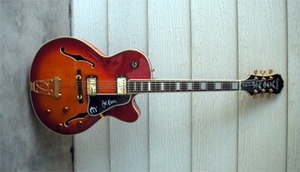 Epiphone Joe Pass Purchased for $300 at Music City Pawn Shop in Sherwood, this guitar was a necessity for taking jazz guitar lessons from Ted Ludwig. It's about as good an archtop as you're going to find for the price.
Other Assorted Gear
Fender Super Champ X2
Line 6 Delay Modeler
Digitech Whammy Pedal
Ibanez Airplane Flanger
Morley Bad Horsie Wah
Digitech DSP256XL rackmount
Casio SK-1 Sampling keyboard
2 no-name keyboards I got at a garage sale
Thumb piano