This page was authored by Des Moines architect and preservationist Kent Carlson, in a valiant bid to save the AIB Building in downtown Des Moines from destruction. The effort was not successful, but the Vorse side of our family appreciates that someone felt strongly enough about Norman's work to compose this impressive biography.
Norman T. Vorse (1949)
Discovering Buried Treasure: The Life and Work of Norman T. Vorse
By Kent Carlson
For many of Des Moines' urban dwellers the rich character of our beautiful old buildings is the quality we find most alluring. We enjoy the thoughtful details, graceful lines and sense of place classically inspired architecture provides. Few tire of taking in the views while walking down tree-lined streets. We love our beautiful gothic churches and our large Tudor homes. We enjoy celebrations on scenic downtown bridges. We marvel at the craftsmanship while listening to our favorite artists in a classic old theater.
What few people know is that one man had a tremendous influence on many of things we all enjoy today.
The story of Norman T. Vorse, a Des Moines architect who created some of the city's finest structures, has all the elements of a Shakespearean play. Born into privilege, his grandfather, also named Norman T. Vorse, came to Des Moines in 1849 and began manufacturing and selling agricultural equipment. He later bought and platted 225 acres on Des Moines' East Side. Norman's father, Charles, studied in Europe at Heidelberg University and graduated from Iowa State University's law department in 1876. Charles applied his expertise managing his father's extensive real estate holdings. Charles also had business interests in California, so young Norman found himself touring Spanish missions at the age of eight.
When Norman was ten,his father fell ill while on a business trip to Santa Cruz. Norman's mother, Augusta, and his Uncle Frank traveled to his bedside, but his father died of a ruptured appendix before their arrival.
While in high-school, Norman's mechanical drawing instructor recognized his artistic talent and recommended an internship during summer break at Proudfoot & Bird, a prestigious local architectural firm. After graduating from West High in 1899, Norman attended Columbian University (now George Washington University) and the Atelier Pietsch in Washington DC. While there he also worked for the government helping design post offices.
In 1906, Norman went to Paris and studied at Atelier Lambert as well as the world-famous L'Ecole des Beaux-Arts. Architecture was his focus and while cycling through Europe, he filled his sketchbooks with studies of buildings from Pisa to Suffolk. In letters to his mother he spoke of how he missed his childhood sweetheart, Daisy Smouse, a neighbor in Sherman Hill where they had grown up together. Photos from the 1880's show the two side by side. Daisy attended Wellesley College while Norman was away. When he returned he married Daisy, and went to work for Proudfoot & Bird. During his tenure at the firm, he took on major design projects. East High School was built during this period.
By 1912 Vorse had two daughters, Marjorie and Alberta, and had set out on his own. In 1914 when his youngest daughter Virginia was born, his practice was flourishing. The city was growing rapidly and Vorse found himself working at a dizzying pace. His clients were prominent Des Moines citizens; the Blanks, the Mandelbaums, the Proutys. He also won some important municipal commissions such as the Court Avenue Bridge, the Boone County Courthouse and the Des Moines Municipal Courthouse on which he was an associate. It was during this time Norman built a wonderful brick and stucco home in the fashionable new neighborhood of Linden Heights, just south of Grand Avenue. He later reminisced that the first ten years after marriage were his happiest times.
With business booming, Vorse merged with the Kraetsch brothers in 1919. The Kraetschs, also Des Moines natives, had established themselves designing homes in the area. With five draftsmen, an illustrator and a secretary along with the three Kraetsch brothers, the firm of Vorse, Kraetsch & Kraetsch became a strong force in the area.
While business flourished, life at home became more difficult. Daisy Vorse was battling demons. She had been fighting a losing battle with mental illness. Private nurses rubbed cocoa butter into her skin to help relax her. Her brother, a doctor who delivered her three daughters, tried every medical treatment, as did her uncle, Dr. David Smouse who started Smouse School. Finally her condition became more than anyone could handle, including Daisy. In 1920 Daisy was institutionalized and Norman was left to care for three daughters and a burgeoning practice. Though she lived into her 80's, Daisy never left the institution.A small staff helped care for the children, as well as Norman's brother and his family a few doors away. Norman had designed the new Wakonda Club and his fee was a charter membership to the club. Norman enjoyed his Thursday evening bridge games and the girls could swim and socialize. Norman commuted around town in his beloved Cadillac coupe. One morning Virginia and a friend found themselves with Dad at a jobsite on her way to school. Dad told them to stay in the car, but curiosity won out when her friend quizzed Virginia about the project. "It's going to be a church?" the friend asked. "Where will the altar be?" Soon the girls were on the rough foundation cement where they rehearsed a mock wedding. They made it back to the car before Dad and he dropped them off at 37th and Grand. They ran to class at Greenwood with few seconds to spare. Little did they know that their ceremony would be the first of thousands at St Augustine's Church. Vorse worked as an associate with an east-coast architecture firm on the project.
Vorse's architectural styles were as diverse as his projects, and his designs eclectic. Designing everything from a quaint pump-house in Waterworks Park to the mansions along Waterbury Road. He was as comfortable building a hospital as he was a diner, window factory, bridge or movie theater. One can recognize the Arts and Crafts influence of the time in is earlier work, but it was sometimes combined with Georgian details. He conquered the Tudor Revival Style popular in the teens and 20's, yet still embraced the Deco Style on occasion. His use of terra cotta, tile and ornate brick patterns became a signature of his work. If there is a common quality of his buildings it would be the sense of scale, balance and proportion he brought to the work from his Beaux-Arts education. His engineering skills and demand for quality construction are now time tested.
Movie theaters were all the fashion and Vorse designed his share. He was the architect for the Garden, Royal and Family theaters as well as the Capitol. It was the twelfth-floor penthouse of the Capitol Theater and Office Building (later known as the Paramount Building) that became the new studio for Vorse, Kraetsch and Kraetsch. No question they were on top of their game.
During the mid-20's the team produced an number of buildings:
The Commodore Hotel, The Bolton Apartments, The Ingersoll Apartments, The Oaks/Elmwood/Birches apartment complex, Hoyt-Sherman Auditorium, Iowa Lutheran Hospital Nursing Residence, Grace Methodist Church, the Benedict Home, Baltimore Dairy Lunch, Campbell Baking in Des Moines and Kansas City, several Ames fraternity houses, plus dozens of residences.
Before the Depression hit, a recession plagued the building industry. By 1928, the demand for new buildings disappeared. There simply wasn't any work. Vorse completed every project he would ever do in this town by the time he was fifty. His sister was living in Houston with her husband who was an engineer. Vorse moved his daughters to Houston and soon married Des Moines widow Ora Grimm. He hoped he could start fresh and break into the market, but it never happened. He tried until the mid-30's with little success. His partnership with Kraetschs dissolved. The Kraetschs went on to build the highly acclaimed Butler Mansion on Fleur Drive. They managed to stay afloat during the lean years of the Depression building the Streamline Deco homes that the Butler Mansion epitomized.
Vorse worked in an art gallery, sometimes building Baroque frames and occasionally producing a watercolor rendering. He remained close to his daughters and their growing families. In 1964 Vorse passed away. Nearly fifty years after their tragic separation, the couple was reunited as the Vorse daughters scattered Norman and Daisy's ashes in of the Gulf of Mexico.
While Norman T. Vorse slipped from our collective consciousness, his legacy is left for us all to enjoy. Those fortunate enough to live in one of his homes understand his architectural and engineering genius. Unfortunately, his commercial work has been appreciated far less. Hoyt-Sherman Auditorium is his last remaining theater. The Paramount and Hotel Commodore required tons of explosives to level. The Wakonda Club was struck by lightning in the 50's and burned to the ground. The Benedict home was razed for an expanded facility. The Marks Building, Mechanics Bank, Baltimore Dairy Lunch, and Johnston Consolidated School are all gone. Matt Leyden's Dive Shop and the Polyclinic (AIB) Building are both in peril from the Western Gateway demolitionists.
The Polyclinic (AIB) Building is perhaps the earliest example of Art Deco commercial architecture still standing in Iowa. While these buildings remain threatened, others have demonstrated far more respect for the work of the Vorse firm. In the late 70's the 4300 square foot Green mansion was moved from the 3800 block of Grand to 42nd street. Few will forget seeing the massive 2 1/2 story solid-brick structure at the intersection of 42nd and Grand on their way to work.
While movers and shakers trumpet the notion that we need a world-famous architect to design a library that makes a statement into the next millennium, the same people are oblivious to the work of a native architect that helped define much of what makes Des Moines special.
We celebrate on his beautiful bridge. We tour his marvelous mansions selected as Symphony Showhouses. We raise our families in his impeccably detailed homes. We worship in his awe-inspiring churches. The beauty of his work has transcended time.
We now have the name Norman Terrell Vorse and his face to attach to an amazing body of work.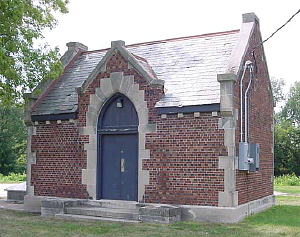 Pump House. (1918) Waterworks Park. Look how much design energy went into such a mundane structure. Imagine. Could this ever happen today?

Norman T. Vorse 1924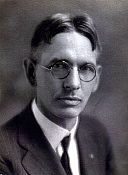 Eliel Saarinen's entry into the Chicago Tribune Tower Competiton, widely held to be the first major example of the Art Deco style in America, 1922, took second place to Hood & Howell's Gothic Revival building.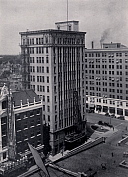 The Capitol Theater on Grand Ave. was later named the Paramount Building. Demolished for the Convention Center.

The Blank Residence (1920s)
5206 Waterbury.

Boone County Courthouse
(1916)

Butler House. (1921)
4507 Grand Ave.

Court Avenue Bridge (1917)

Des Moines Municipal Courthouse (1918), now home to the DM Police Department

Cunningham Residence

Dr. Schwaner Residence

Mandelbaum Residence.
(1918) 5223 Waterbury Rd.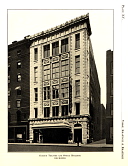 Garden Theater & Office Building. Demolished.
613-615 Locust

Lessing Residence. (1916) Author's home. 5004 Country Club Blvd.

Hoyt-Sherman Auditorium.
(1922) 1501 Woodland